Student Leadership
Ainslie School's student leadership structure consists of 5 levels:
Everyone is a leader
School Captains
Student Representative Council (SRC)
Buddy activities
Student interest groups
Our school's Network Leader, Judy Hamilton, regularly visits our school. Below is a photo of Judy speaking with Raph and Bec from year 5.
1. Everyone is a Leader
Students don't have to be school captains to be considered leaders. We encourage our students to be leaders in the classroom and playground, through their support for other students, or their involvement in academic, sporting, cultural or community events and projects.
2. School Captains
The school captains are the student leaders of the school and are elected by the student body. Students elect the following year's captains from 10 year 5 students who have been short-listed by their year cohort. The school captains represent the student body at internal and external events and participate in the school decision-making process.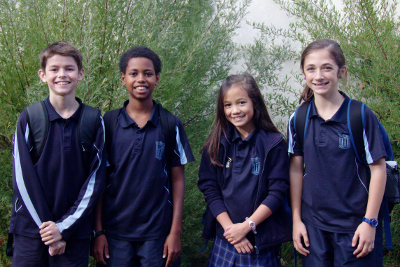 3. The Student Representative Council
The Student Representative Council (SRC), is a program which actively involves students in their own education and wellbeing, develops leadership skills and empowers students to make a positive contribution to the school community.
The functions of the Student Representative Council are varied and include:
promoting a positive school culture
representing the School on behalf of the student community
organising student involvement in school charity work
representing student views to staff, the Deputy Principal, Principal and the School Board
assisting in running school assemblies
modelling positive behaviours, school citizenship and leadership for the student body
The Student Representative Council promotes activities such as discos, school initiatives and fundraising in the interest of creating a safe school environment and a positive school culture. Money that is raised by the SRC throughout the year is used for student driven projects across the school and as donations to charities.
4. Buddy Activities
Ainslie's buddy activities are designed to help create a friendly and caring school environment at school. The activities build strong relationships and research shows children benefit immensely - with younger students feeling safe and cared for, and older students feeling valued and respected.
5. Student Interest Groups
Ainslie school hosts several student interest groups every term before school and during the lunch time break. Activities such as gardening, choral work, dance, library activities, creative arts, science club, structured strategy games and chess are offered to students during their break.