Food and Nutrition
It is important to Ainslie's school community that the children have the best nutrition possible to ensure their health and wellbeing. Good nutrition can help children to build healthy bodies and minds, stay alert in class and be energetic all day, maintain a healthy weight and fight infections.
Ainslie School promotes a variety of programs for the children to learn how to grow, harvest, prepare and share fresh food and drink fresh water in the belief that this approach will provide a better chance of positively influencing children's food choices.
Benefits of a food and nutrition focus at Ainslie School includes:
Development of new skills in the kitchen and garden equipping students to lead lives using fresh foods
Modelling new ways to connect with families - discussing what happens in the garden and applying the learning (growing things, cooking things) at home
Creating cultural capital within our school community as families work together to plant and harvest
Identifying shared processes for food at break times to be eaten together as a social practice - social skills like sharing and conversation
Promotion of water as the drink of choice
Promotion of eating fresh fruit and raw vegetables every day
Introduction of new foods, new flavours and new textures
Appreciation of fresh seasonal food
Encouragement of daily physical activity
Development of cooperative behaviour as all work is done as part of a small group
Development of deep understandings of cultural competence by exposure to other culinary traditions
Development of strong relationships with adults other than the class teacher or parent (e.g. volunteers)
Development of practical understanding of environmental issues such as soil health, water management, seed-saving, organic pest control and the importance of plant diversity
Lunchbox ideas
Help your children to get the most out of life by eating healthy foods from the 5 different food groups. Explore this website link to find information and ideas on healthy lunchbox ideas for kids.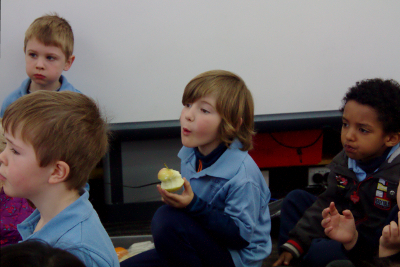 Water Refill Station
Ainslie School has been one of the first schools in the local area to install fresh water refill stations. As part of this project all Ainslie students from Kindergarten to year 6 received a refillable drink bottle. This initiative encourages students to drink tap water frequently and reduces the use of disposable water containers.